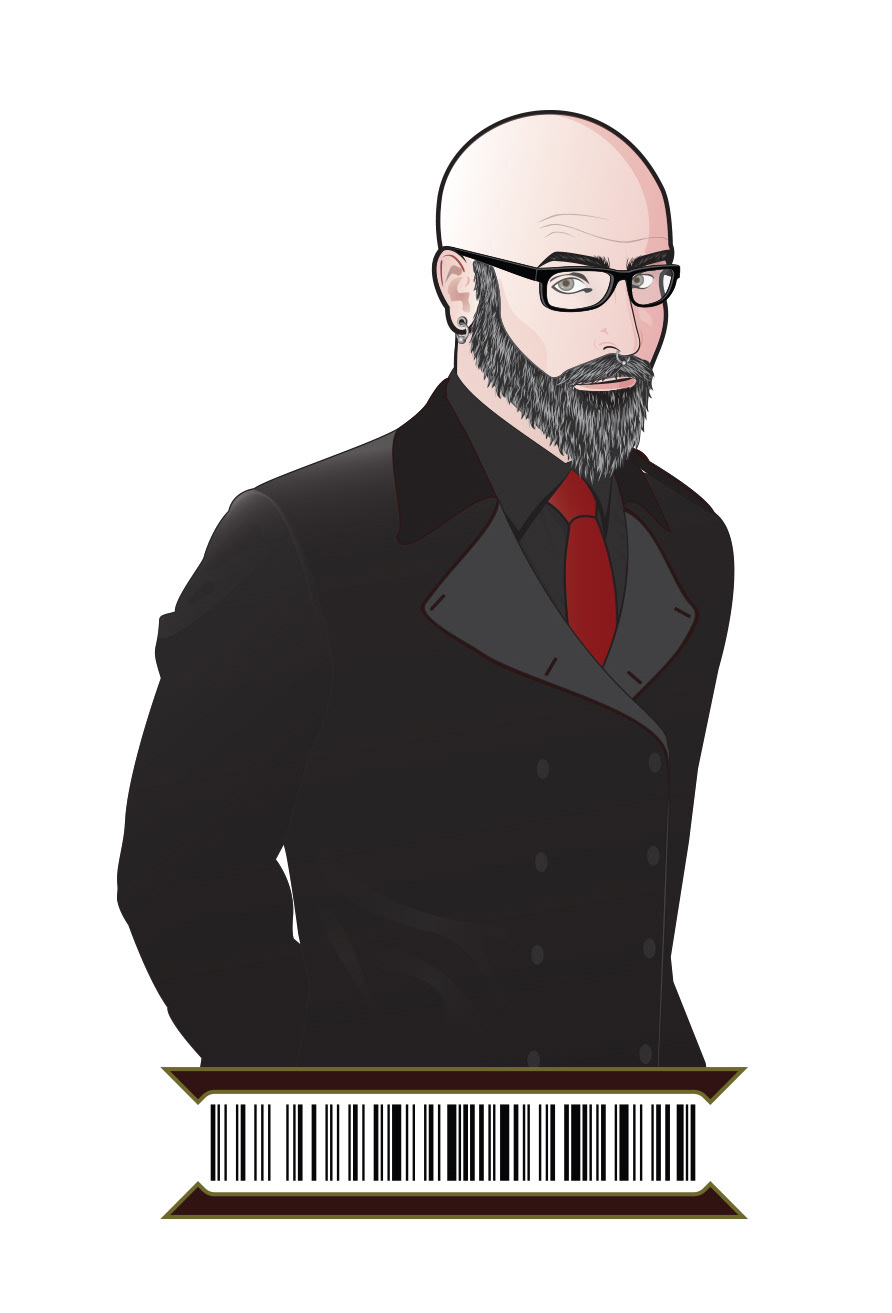 D
esde que puedo recordar, he estado fascinado por el mundo de la ilustración (sobre todo por los comics) y el diseño (maravillado por el diseño 
de los productos farmacéuticos y más tarde, por revistas y discos). Esto ha sido 
el principal objetivo en mi vida y meta profesional, por lo 
que encaminé mi educación en esa dirección. 
Me gradué en Comunicación Gráfica especializándome en ilustración en la universidad de Northampton, Inglaterra, donde pasé unos 15 años de mi vida. Me encantan los proyectos que suponen un reto y me hacen evolucionar como profesional, los que me permiten experimentar con diferentes técnicas y desarrollar las que ya conozco y domino. Mi experiencia como profesional me ha enseñado y ayudado a entender la importancia de hablar y entender el punto de vista del cliente. 
La Música:
Punk, R´n´R, psychobilly, rockabilly, tecno, dub, reggae, ópera...
y grupos y artistas como:
Marc Almond, 
Magic Sword, Fart Barf, Nathaniel Rateliff, Nick Waterhouse, 12 Step Rebels, Rancid, The Cramps, Langhorns, Brian Setzer, Motorhead, Divine, B´52´s, Rezurex, Maria Callas Roy Orbison, Fangoria, Alex Gopher, Alabama3, 2 Bit Pie, Fluke, Syntax, The Aggrolites, Nekromantix, Horrorpops, Pet Shop Boys, The Upsetter, King Tuby, Lee Perry, The Wiseguys, White Zombie, Rob Zombie, Malcom Mclaren, Unkle, Perry Farrel, Underworld, Stray Cats, Rancid, U.S. Roughnecks, Lars Frederiksen and the Bastards, Vive la Fete, Thievery Corporation, Toilet Boys, Transplants, Ramones, The Prodigy, Misfits, The Meteors, Rockers Hi-Fi, Mad Sin, The Chemical Brothers, The beloved, Future Sound Of London, New Order, Sisters Of Mercy, The Cardigans, Supersuckers, Billy idol, Roberta Marrero, Marilyn Manson, Prince, Portishead, Pitch Black, Orbital, Natacha Atlas, Muse, Jimi Hendrinx, Baby Horror, Grace Jones, Dread Zone, Death in Vegas, Danzing, Black Star Liner, Social Distortion, Amy Wnehouse, Gus Gus, Johnny Cash, Limp Wrist, Youth of Togay, Gayrila Biscuits, Leftfield, Massive Attack, Soil, Monk and Canatella, Morrisey, Ofra Hatza, Fairuz, Raphael, Shirley Bassey, Ryuichi Sacamoto, Voodoo Glow Skulls, Tchaikowsky, Johan Sebastian Bach, Transplants, Los Tiky Phantoms, The Smiths, Rinôçerôse, Astrud, Agnostic Front, Dropkick Murphys... 
Los Cómics:
X-men, Batman, Starman, Legión de Superhéroes, The Sandman, La cosa del pantano, Ultimates, Sin City, Hell Boy, Superman, Watchmen (y no por moda, me lo leí en su momento), All Star Superman, Los Nuevos Mutantes de Bill Sienkiewitz (bueno, cualquira dibujado por él), Factor X, La Liga de la Justicia en todas sus encarnaciones, Infinity inc, The Flash, Lenore, Robin, Blade Runner 2019, Batman Universe ... Y bueno por lo general los de superhéroes, aunque también me molan mucho los europeos 
y algún manga como Alita, los de Tagame... 
Los Dibujos animados:
Gravity Falls, Steven Universe, Regular Show, Adventure Time, SpongeBob, Fairy Odd Parents, La Abeja Maya, Heidi, Beetlejuice, Futurama, Padre de Familia, Los Simpsons, Joni y sus amigos, Kim Possible, Maziger Z, Dragon Bola, Drawn Together, American Dad, Happy Tree Friends, Batman en todas sus versiones, La Liga de la Justicia, Superman, Legión de Superhéroes... 
El Cine:
De terror, Ciencia Ficción, Fantástico, Comedia Española (sobretodo las de los 60 y 70)
y películas como:
Atraco a las Tres, cualquiera de Marvel (MARAVILLA!!!), La Ciudad de los Niños Perdidos, El Gran Lebowski, Todas las de Freddy, las de Viernes Trece, Las de animación de DC, Noche de Miedo, the Ring, Sky captain and the World of tomorrow, Alien, Todas las de Almodovar, Trainspotting, Las que Tienen que Servir, Cualquiera de Gracita Morales y Jose luís López Vázquez, Shortbus, Querelle, Hellraiser (GRANDE!!!), Zombie Town, Party Animal... 
Series:
Titanes, Doom Patrol, Flash y todo el Arrowverse, Big Bang Theory, Dexter, Absolutely Fabulous, Héroes, A Seis Metro Bajo Tierra, Chicas de Hoy en Día, Pepe Carvallo, Siete Vidas, Los Hombres de Paco, The Ligue of Gentlemen, Sex and the City, Doctor en Alaska, Jóvenes
... 
Héroes/Idolos:
Jack Kirby, Stan Lee, 
Herb Lubalin,
josef müller-brockmann, saul bass,
 Divine, Ryan Huges, Bill Sienkiewitz, Frank Quitely, Arthur Adams, Jean Paul Gaultier, (Santo) Marc Almond, Nacho Canut, El Doctor Muerte, Dalí, Tim Armstrong, Thierry Mouglier, The Designers Republic, Tomato, Gustav Klimt, Bill Ward, Gil Elvgren, Frank Miller, Alan More, Tony Harris, Grant Morrison, Bruce Tim, Karl lagerfeld, Takeshi Murakami, Andy Warhol, Roy Lichtenstein, Emma Frost, Mike Ness, Glen Danzig, Gruau, John Waters, Mr. Cartoon, Doctor Frankenstein, Zuloaga, Quintín Torre, Sorolla, Tom of Finland...